New Innovative Technology for 3D effects in Injection Molding Plastics
This paper will discuss the methodology for a new injection molding technic that give the effect of 3 dimensional image into a finished part in a one step process.
In the past there have been ways to over mold clear resins over substrates that have been either printed, stamped or thermoformed and then placed in the mold cavity between each cycle that would give a 3-D look to a plastic part.   This new patented technology produces the same or similar visual depth to a finished part in a one step process.
Though the reorientation of platelet pigments we know that 3-D effects are possible in flat printed materials that have the look of heavily embossed paper.  This is referred to as Virtual Effect 3 Dimensional printing.
Based on the intellectual property of those inventions, the Plastics group began to experiment with the idea of reorienting platelet materials in injection molded parts.   To achieve the 3-D effect without flow lines, a film containing platelet materials is used in a method similar to in-mold labeling.  In the use of In-mold labels you would normally place them in a mold cavity between cycles and then mold a colored resin behind them to achieve a permanent labeling solution as part of the injection molding process.  In this development we use a flat piece of film with platelet materials in it to be manipulated in the molding process placed behind the clear material.   One side of the mold will have the desired image contoured into the surface and the film will be over molded in a clear resin.  The completed part with have a deep 3-D image in each part when viewed though the clear molded skin.   The image is created by the platelets being reoriented in the molding process and freezing them in the new position of the desired contoured mold surface.
Biography – Scott Aumann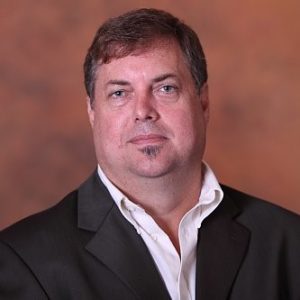 Scott is the Technical Manager for Plastics at EMD Performance Materials. Scott has a bachelor's of fine arts from the University of Florida.  Scott is a CAD RETEC Board member.