Color Space and Performance of Pigment Brown 48 Iron Titanate Pigments
Mark Ryan
The Shepherd Color Co.
[one_half]Mark Ryan is the Marketing Manager for the Shepherd Color Co. Mark is responsible for market and product development for key technologies such as IR reflective pigments, the NTP Yellow and RTZ Orange high-performance pigments along with Shepherd Color's highly-durable and heat-stable standard pigments. Mark has spoken and been published around the world on the use of these problem-solving pigments for paints, coatings, plastics and other materials. He is a Board Member of the SPE-Color and Appearance (CAD) division and the Cool Metal Roofing Coalition. Mark earned the CAD-RETEC 'Outstanding Paper' award in 2014 for his "Inorganic Pigments: From Caveman to the 21st Century". He has been in the involved in high performance materials with various technical, sales and marketing roles for over 23 years and has a bachelor's degree in chemistry from Saint Louis University and an MBA from the University of Missouri at St. Louis. His favorite color is blue.[/one_half] [one_half_last]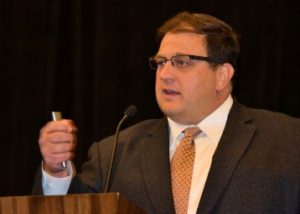 [/one_half_last]
Abstract
Iron titanate pigments are brown shade pigments with high durability, temperature stability and pleasing masstone browns and warm-shade tints. More generically referred to as C.I. Pigment Brown 48 pigments, they are composed of iron, aluminum, and titanium that are calcined at over 800C. This high-temperature processing makes the pigments very inert to attack from acids, bases, solvents and UV. The relatively common and largely seen as benign elements used mean that this pigment is viewed favorably in many regulatory areas. The pigment is not formulated with chromium or zinc and it does not require SARA 313 reporting and certain version have approval for use in FDA food packaging applications.
Coloristicly, the pigments are brown in shade. They are less chromatic than the PBr24 (chromium antimony titanate), but higher in tint strength. They are similar in shade to PY119 (zinc ferrite) pigments, but with higher heat stability. They make excellent options for making tans and beiges in high-temperature and engineering polymers. They exhibit good IR reflectance for use in IR reflective applications like artificial turf, where because of the exclusion of zinc in the formulation it can address zinc runoff issues.
Iron titanate PBr48 pigments are specialized pigments for applications where their balance of color, tint strength, economics, and heat stability are needed.